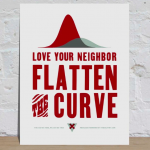 Kia Ora my friends.The beautiful image to the left is one of the series of free, lovely downloads from the awesome people at The Old Try.
You know what awesome Fred Rogers is quoted as saying? "When I was a boy and I would see scary things in the news, my mother would say to me, "Look for the helpers. You will always find people who are helping.""
Oh, bless you Mr. Rogers.
Look for the helpers, my friends.
Like here: in Singapore. And here: Yoga with Adriene.
And look for the beauty – like those aforementioned prints, like these phenomenal cross stitch patterns, and like this bit of amazing news about the return of swans and dolphins to the canals of Venice.  And how lovely to witness adults being playful, as in this collection of lockdown vids from Huff Po. I know … it's confusing.  The 'net is both blessing and curse.
A couple of COVID specific screen time resources here, for all the kids spending extra time at home …there is a well-timed webinar coming right up from our friends at the Children's Screen Time Action Network, and Common Sense Media will help you tread a little more carefully in the digital world, and I humbly offer an article I wrote some months (years!) ago, with some info about offline play for little 'uns. 
Also: cut yourself a little slack, in the meantime! Good enough parenting, darlings.  Feel those feels and let the kidlets feel theirs too!  
We still gotta be careful about all the time online, pals. This is an article from the Guardian about how YouTube is an agent of radicalisation (if you didn't hear this episode of the Undivided Attention podcast interviewing Guillaume Chaslot, it explains this notion v. well).
What else? Gotta bring it on home so I can go meet little girl off school bus.  Yup, still running in NZ.
Here is a guest post I wrote, about screen free week in NZ.  
And finally: RIP Ron Lally.  He was a tireless advocate for children and he helped change my professional trajectory.  He was kind and decent to me, we hung out both here and in Cali, and we in the field have lost a giant.
I only recently learned of his death, and I wept.