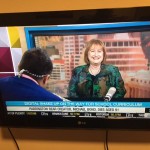 Yesterday there was lots of media chat from our Ministry of Education about the digital focus of this next chapter of NZ education.  That's their priority.
Because we live in a digital world.
Cool.
But as a mate reminded me, let's just ensure we don't lose sight of our natural focus.  Because we also live in the natural world.
And our relational focus.  Because we also live in a relational world.
An emotional world.
A sensory world.
And without a shadow of a lie, all kinds of sciences collide on the notion that there is a unifying reason we have evolved the brains and skills we have – the ones capable of the incredible and complex things our brains can do … like building iPads, for flip's sake!
(I mean, I can barely understand the TELEPHONE , let alone bluetooth, wifi, or how to create an app.  Full credit to the mighty cortexes and superb fine motor skills!  Hooray for the opposable thumb!)
Friends, the reason we can do all that stuff is because we are social mammals.  Evolutionarily, we are not the strongest or the fastest.  But we win because we know how to function in groups.  We developed language.  Accumulated knowledge over generations.
We are top of the food chain because we have nurtured this brain into being.   And now we have this brain that has developed into something capable of witnessing itself for the first time in history (thanks to extraordinary brain imaging technologies).  I mean, at random, let me share an example of the profound stuff we are figuring out.  This is just one of a quadrillion things published, it just happened to hit my inbox this week.  From Harvard, about the way that pondering hardwired!  YUM!
I love what Dr Tara Brach says when she reminds us that with our understanding of neuroplacticity "We can train our ways of paying attention".  She encourages excitement in living now: "at this juncture of our evolutionary history … we can actually evolve our own brains.  We can choose to pay attention in ways that open up our heart and mind".
Right on!
So let's try not to lose sight of all that.  The digital world is cool, but it's our social brains that brought us here.  Undermine the health of them and … YIKES.  It's like icing a beautiful cake but then obsessing so much about the icing that the cake itself might be raw.  Or mouldy.  Or something.
Here is a special treat … my dear friend Nathan courageously advocating for children on 'Nine to Noon' on RNZ. The question: Does NZ education policy align with recognised research?  (the answer … um … nope).  Love it.  Those parenting sections on a Thursday morn are often really good.  I miss them all the time but LOOK!  Oh, wondrous internet!  We can find them all here.
What a time to be alive!  Hot running water, and now all this!
Anyway, big thanks to the hardworking and glorious teachers of young folk in North Canterbury who came to the meeting yesterday.  Thanks to Swannanoa for hosting.  Amazing.  Can't wait till next time.  But we failed to set a venue … d'oh.
If I may, I just need to clear a few tabs.
A few things from Scientific American, this one is why dads downplay their feelings, and it led me to the wonderland of journalistic adventure that is The Conversation, from Australia.  
This is a wicked downloadable pamphlet from the Campaign for a Commercial FreeChildhood, it's a fact sheet about screen time and you need it.   You will be able to get one from the excellent people at the Amberley Medical Centre when we have our "Technoference" prez on the 2nd of August.  That's a wednesday.
Nerd alert (Me, too) this is the Journal of the Psychology of Popular Media Culture, and with much love to soon-to-return-home Lauren for alerting me to Sherry Turkle, here is an amazing Ted Talk.
Arohanui,
Stay warm, kiwis.  And stay cool, if you're lucky enough to be somewhere warm.
x x x