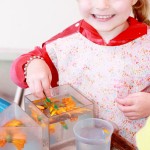 Here my Little Girl is at kindergarten.  I know, I'm dorky about protecting her image.  Praps she'll thank me later.  I love this picture for the pure demonstration of how her play is her work.  If you're lucky, you'll also find yourself mixing together a nice wee melange of work and play.
My life is nicely like that.  Work, play.  Work = play.  Play = work.  Work = work.  Play = play.  Repeat.
Now it's time for some links.  Some interesting, juicy links.  First up, a fantastic blog that my mama mate shared with me.  Welcome to the Queens of Constance.  I am awed by this … so brave, honest, important.  My eyes get a bit bruised by loose spelling and unorthodox grammar (I'm kinda an apostrophe nerd) but I forgive.  It's a glorious site.  Enjoy.
Next, if you have a little time up your sleeve, check out this sensational series about the brain, from PBS in the USA.  What a world we live in … you can just look stuff up!  Any time!  I remember the 1980′s, when to re-view a clip from telly you had to write in to the special Sunday night clip show, and if you were really lucky they'd play it one more time.
Nice summary of babies' learning here, from the Mental Floss website (*albeit a dorkily named article)  and check out this meta analysis from the Robert Wood Johnson foundation about what children's social competence means throughout their lifespan.  
Here is an article about making childrearing less expensive, and this a li'l something about the happiest/least happy places for children.  Apparently incomplete data, though.
Here is a piece from Mothering, showing how one legislator from Mississippi wishes to use the law to protect the rights of breastfeeders (and breastfeedees)
Take care out there.  Arohanui xx