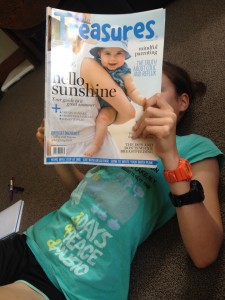 whaddup pre Christmas geeks.  Hope you're not on a screen when your school holiday children are seeking your attention.  That'd be lame.  That'd be just what I'm doing right now … hypocrite.
So here's Big Girl reading the latest issue of Little Treasures magazine, which has a wee piece written by this geek therein.
Some quick links I gotta share, then I'm going to do some drawing with Little Girl.  First, here is a write up about the latest inductees to the toy hall of fame.  Any guesses?  Now a link to some of the world's coolest playgrounds (although I tend to rate the area under our macrocarpa trees as equally stunning).
Very nice (inspiring!) cartoons from a clever New Yorker are here, and it's not too late to purchase a pair of chickens for Christmas.  Finally ….  this is the recipe to the world's most awesome Christmas cake.  Made mine yesterday!  Thanks, Nigella!